Zveřejněno dne 23. června 2022 - od Justus Frye
Turnover has increased by 9.43% from €509.1 million to €557.1 million in 2021 in the GRIMME Group. More than 80 % of the turnover was generated outside Germany. All manufacturing companies with the brands GRIMME, SPUDNIK, ASA-LIFT, INTERNORM and RICON were able to increase their turnover.
The number of permanent staff has risen from 2,700 to over 2,850 worldwide in parallel with the good growth in turnover in recent years. 1,850 people are employed in Germany.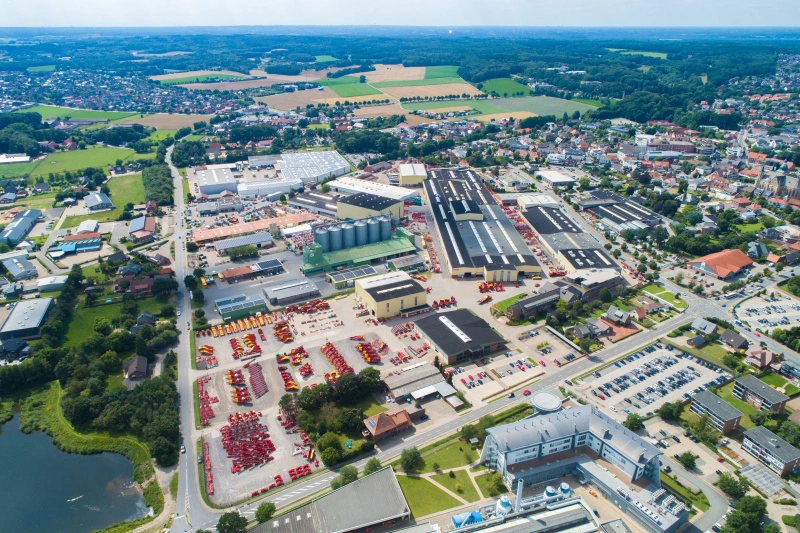 GRIMME Landmaschinenfabrik and its sales and service companies account for the lion's share of sales with 384.5 million euros, up from 363.9 million euros in 2020. In Belgium, France, Russia and China, both market shares and sales have been increased. Due to the after-effects of Brexit in the UK and high inflation in Turkey, sales losses had to be accepted.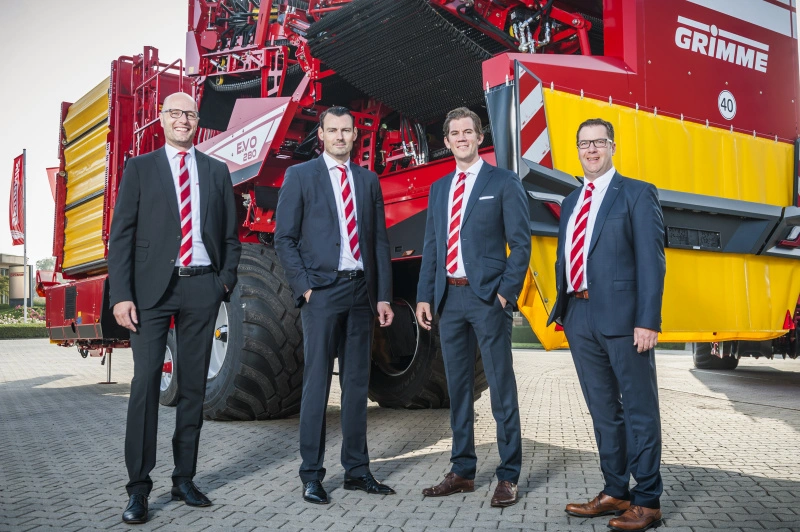 The US company SPUDNIK, which was taken over in 2003 and is based in Blackfoot/Idaho, generated the equivalent of 110 million euros in 2021 under the management of Rainer Borgmann with 420 employees. SPUDNIK is the North American market leader in potato technology and is increasingly active in the field of sugar beet and vegetable technology. With the development of a self-propelled spinach harvester made of stainless steel, SPUDNIK is breaking new grounds in the vegetable sector.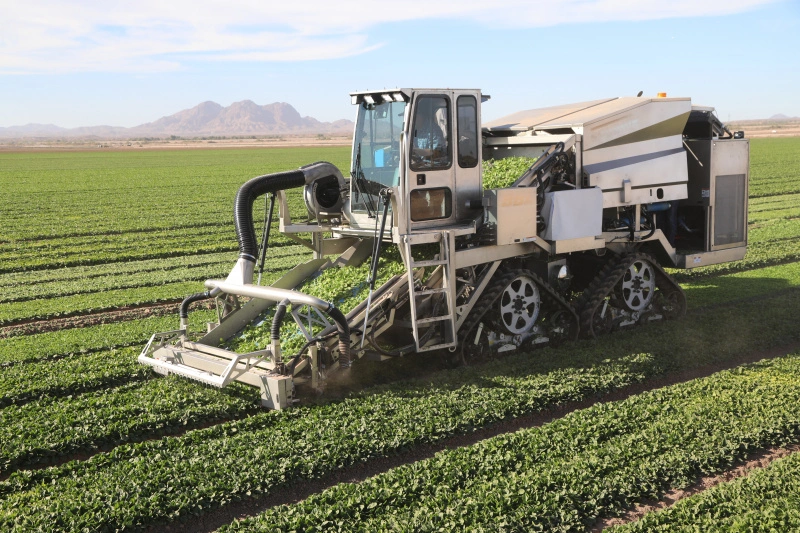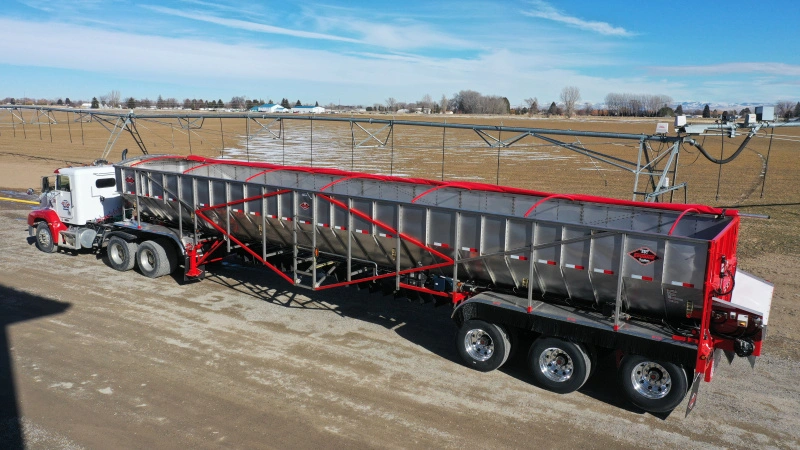 In 2013, GRIMME acquired the Danish specialist for vegetable technology ASA-LIFT, founded in 1936. With more than 130 employees under the leadership of Joas Lyng, the company was able to achieve a turnover of more than 20 million euros for the first time in 2021. The global trend towards healthy vegetables and the shortage of harvest workers is significantly increasing the demand for powerful technology. Therefore, further investments are being made in the site at Sorø (Denmark). With its machine portfolio of the ASA-LIFT and GRIMME brands, the group already has the broadest programme in this very specialised sector and will continue to expand it intensively.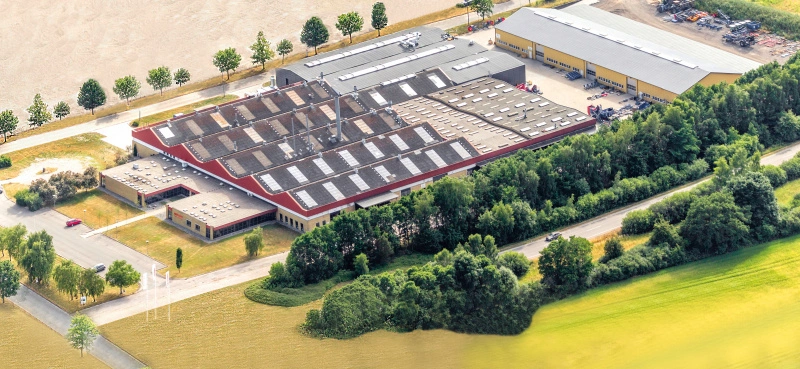 The innovation lab, Schmiede.ONE in Dusseldorf (Germany), was founded in 2017 by Christoph Grimme and employs 20 highly qualified staff with a focus on robotics and digitization. In close cooperation with the newly established "Digital Business" department at GRIMME, future topics are being driven forward at high speed and innovative solutions will be presented in the near future.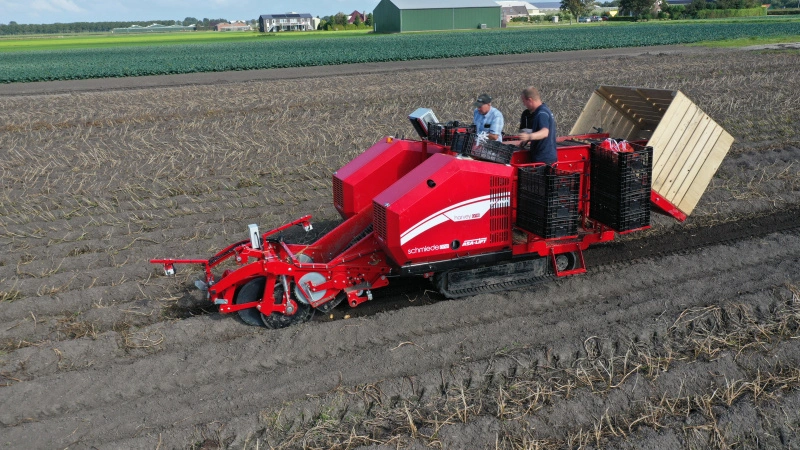 In 2019, GRIMME founded a Joint Venture with the Indian family-owned company and world market leader in rotary tillers "Shaktiman" to supply the Indian market with specified machines for potato cultivation. In the meantime, potato planters and harvesters as well as special rotary tillers are available. Within a very short time, for example, it was possible to present a two-row potato harvester with picking table and overloading elevator that can be operated by tractors with approx. 75 hp (~55 kW).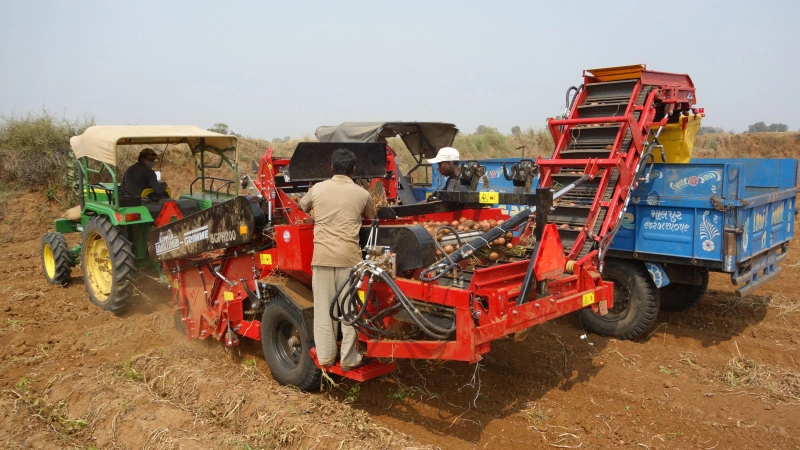 Investments in the future
The financial performance has also developed positively in line with the growth in turnover, so that extensive investments for the future can be financed from own resources. Over the next two years, more than 50 million euros will be invested in Germany alone. The investments thus reach the highest volume in the 161-year history of the company.
These investments include an extensive expansion of the TECHNICOM customer centre in Damme as well as in machinery and equipment in all manufacturing plants worldwide. Another focus will be investments in workplace ergonomics. In the industrial area of "Niedersachsenpark", 15 km away from Damme (Germany), new buildings will be constructed for the assembly of harvesting machines as well as validation, a large centre for used machines and a training building. The hall capacities becoming available in Damme are used for the constantly increasing requirements in the areas of logistics and production.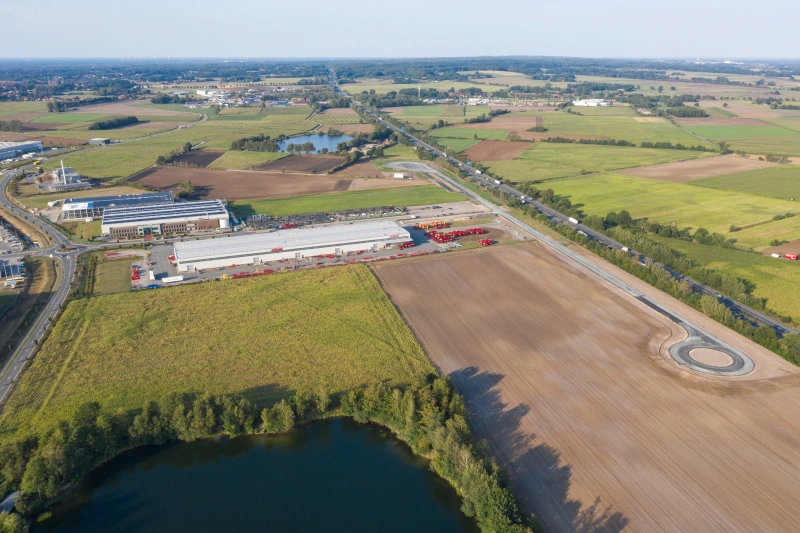 A new administration building will be constructed at the headquarters in Damme. In addition, 10% of turnover is invested in new and further developments, with digitization becoming increasingly important in this area. In order to strengthen its market presence in the important Bavarian market, GRIMME will commission the new location at the village of Langquaid south of Regensburg in 2022.
Current business development
In 2022, there are an extraordinary number of factors affecting business worldwide. First and foremost, the ukraine war and the associated extensive sanctions are having a massive impact on business in russia and ukraine. The GRIMME Landmaschinenfabrik is particularly affected. Thanks to the high demand worldwide, the shortfalls in Russia and Ukraine could be compensated for the most part. In addition, production losses due to the Corona pandemic had to be taken into account, which had a negative impact on delivery times. Parts procurement on the world market is very difficult and will continue to cause problems in the medium to long term. The high price increases for raw materials, supplier parts, energy as well as the increases in the salary and wage sector also led to price increases at GRIMME.
Despite all adversities, the GRIMME Group expects an overall positive development of sales and earnings at all manufacturing companies. Should there be further escalations worldwide, then unforeseeable and massive effects cannot be ruled out, which could have a strong negative impact on business development.
GRIMME Landmaschinenfabrik has grown strongly in recent years and political, economic and social challenges are constantly increasing. With the One.GRIMME strategy, the family business is preparing itself for the future. Digitization, agile sales structures, new business models, massive strengthening of vegetable and beet technology activities, expansion of market leadership in potato technology and shorter development cycles are just some of the diverse activities. "We will continue the company with the successful corporate philosophy in the fifth generation and have laid a new foundation of organisation with the launch of the One.GRIMME strategy. We are looking forward to this and for this we are going full throttle at all levels," say Christoph and Philipp Grimme, who have been actively shaping the fortunes of the GRIMME Group as managing directors since 2016 and 2019 respectively. Franz Grimme adds: "My wife and I are very proud of the activities of our sons and the great energy of both of them, which is supported by the entire staff. We will continue to actively accompany our two sons and it gives us great pleasure to know that everything is in safe hands".
The GRIMME Group
The core of the GRIMME Group consists of the agricultural machinery manufacturers GRIMME, SPUDNIK and ASA-LIFT as well as the supplier companies INTERNORM and RICON. The seven manufacturing plants are located in Germany, Denmark, China and the USA. Own subsidiaries for sales and service are present in Great Britain, Ireland, France, Belgium, Turkey, Russia, Denmark, the Netherlands, Norway, Sweden, Finland, China, Poland, the USA and Germany. Participations such as in DKE-Data GmbH (agrirouter), CCI, AGBrain, Seedhouse as well as joint ventures with Shaktiman and SeedForward are also managed across the GRIMME group.
In total, the GRIMME Group employs over 3 000 people worldwide, 2 850 of whom are staff members (core workforce). The board of directors of the GRIMME Group consists of the managing directors Franz Grimme (Chairman), Christoph Grimme (GRIMME Landmaschinenfabrik, SPUDNIK and ASA-LIFT), Philipp Grimme (INTERNORM and RICON), Franz-Bernd Kruthaup (GRIMME China and Joint Venture Shaktiman-GRIMME) and Dr. Michael Tönnies (Commercial Management).