Published on September 28, 2023 - from Kathrin Fühne
The "PowerHarvest concept" combines a patented curved conveyor with newly dimensioned high-performance separators. It is used for the first time in the 4-row, self-propelled potato harvester TERRATRON manufactured by SPUDNIK (Idaho/USA). With this machine, harvesting capacities of more than 500 t/h can be achieved. This means an increase of the previous maximum harvesting capacity by more than 25 %.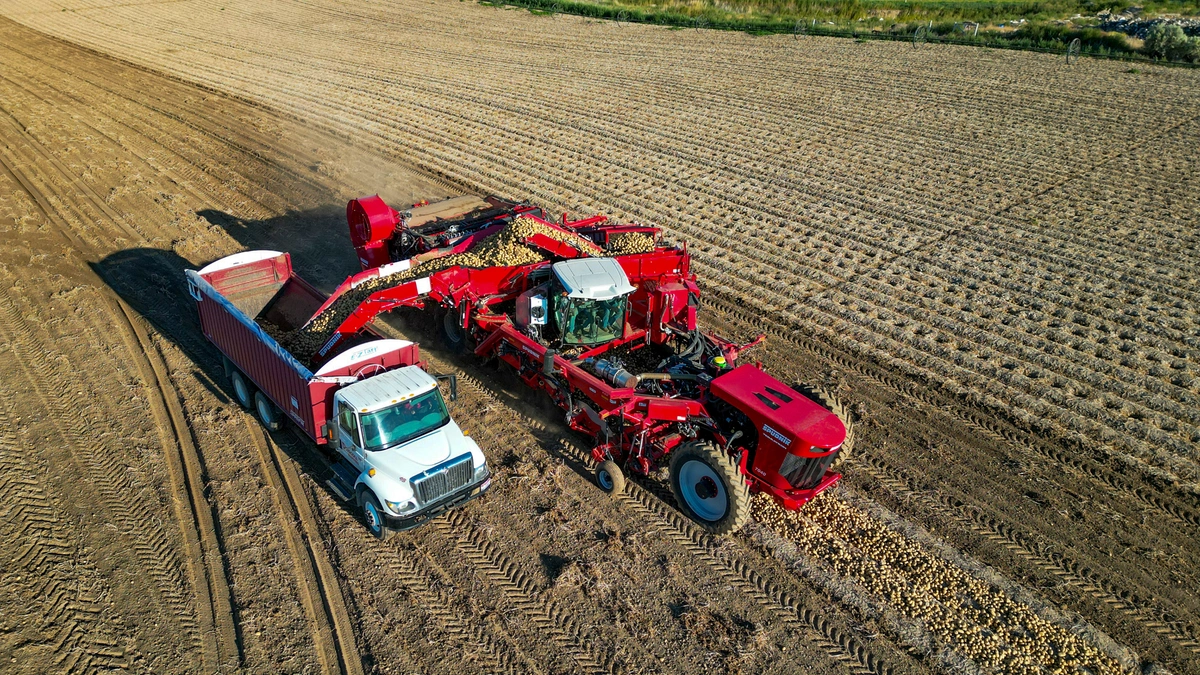 Picture: The four-row, self-propelled TERRATRON from SPUDNIK (USA) powered by an engine with 683 hp.
Due to the permissible machine width, comparatively narrow separators are normally installed in many potato harvesters. This can have an impact on the sieving and drive power when harvesting potatoes.  And, due to their design, machines with sharp deflections or bottle necks in the crop flow can cause damage to the harvested potatoes.
The new TERRATRON works according to the "wrap-around principle". This is a machine concept widely used in North America, in which the crop flow is guided in a spiral "around" the entire machine. Compared to classic potato harvesters, however, the new self-propelled harvester has a significantly larger sieving surface. Combined with the 683 hp engine, the full-width separators, the completely hydraulically driven components and the possible adjustment of the main web angles, the "PowerHarvest concept" comes into its own. With its "Curved Conveyor" a new type of screening and transporting conveyor was developed.  Angled drop steps (22° in the back, 7° in the front) provide a smoother crop transition, an equal distribution on the elevator and an exceptional throughput performance.
As a result, the harvester is no longer the performance-limiting factor in the harvest chain and can process up to 20 rows of potatoes at once in an enriched harvesting process (Note: An enriched north american harvesting process consists commonly of 2 windrowers with 6 to 8-row each. The windrowed crop is placed between the ridges, which are picked up by the following 4-row TERRATRON. In total, therefore, up to 20 rows are picked up by the new self-propelled harvester). The TERRATRON's enormous capacity allows farms to scale economically without having to procure an additional harvesting chain and hire additional staff.