Published on September 28, 2023 - from Kathrin Fühne
To this day, in many regions of the world, potatoes are cleared from the ground by machine and then picked up by hand. Simple, mounted, 2-row windrowers with a full width share-plate are used. The cleaning and sieving is usually done with a short main web followed by a mechanical shaking rake. The machines are used with tractors in the power class from approx. 40 to 70 hp. In practice, this method results in 5 - 20 % harvest losses due to spilled tubers.
At Agritechnica, GRIMME, as part of the joint venture with the Indian manufacturer SHAKTIMAN, presents the new SGRW 200. A mounted windrower with foldable second main web for more efficient potato harvesting.
The two-row machine is fitted with share blades commonly used in Europe. It only clears the tuber nest in the ridge and thus conveys significantly less soil into the machine. In particular, large, hard clods of soil, which are predominantly in the furrow area, are not taken onto the main webs. The depth guidance of the shares is done with the help of diablo rollers, which break up incrustations on the ridge surface. Two disc coulters per row ensure blockage-free operation.
The innovation of the foldable 2nd main web
A new feature is the patent-pending hydraulic folding mechanism for the 2nd main web. Thanks to "SmartFold", the centre of gravity of the machine can be shifted forward at the headland or on the road. The significantly reduced lifting power requirement makes it possible for the first time to use the new windrower with two crop protecting main webs in a power class from 50 hp.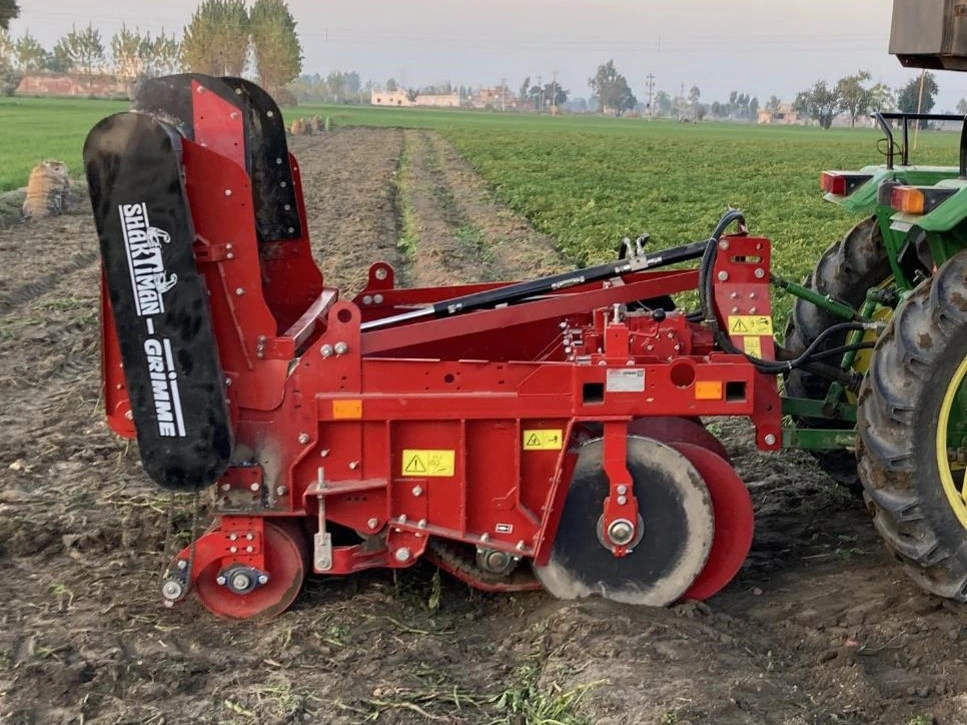 Picture: By folding up the 2nd main web ("SmartFold"), the lifting force requirement is reduced. At the same time, manoeuvrability on the headland and on the road is improved.
In the field, the grower benefits from significantly improved sieving of soil and clods. A pressing roller is optionally available for the machine, which levels and superficially presses the soil after lifting the crop. This ensures that 100 % of the potatoes are placed clearly visible on the ground. The high harvest losses mentioned above are completely avoided.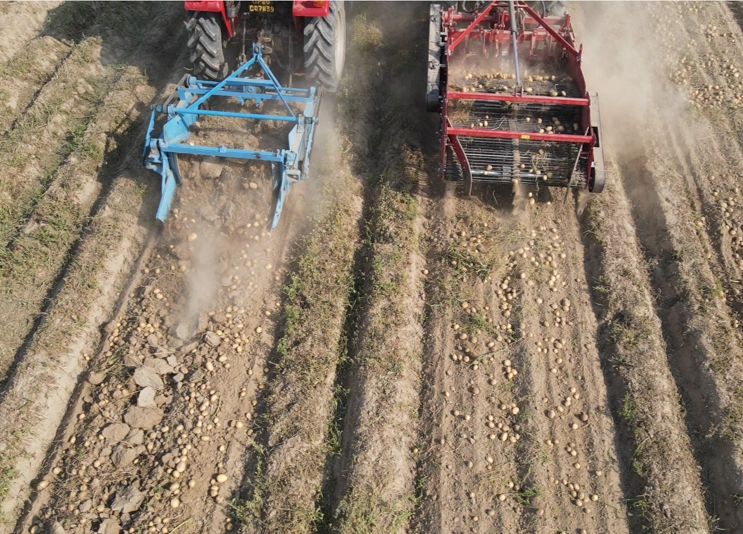 Picture: The work result of a conventional windrower (left) and the SGRW 200 with "SmartFold" (right).